I did not receive an athletic scholarship until two days before signing day....
Johnny Quinn is a 2014 U.S. Olympian in the sport of bobsled. Johnny is a former professional football player spending time with the NFL's Buffalo Bills, Green Bay Packers and Saskatchewan Roughriders of the CFL. He is one of three people (Herschel Walker, Jeremy Bloom, Johnny Quinn) to have played in the NFL and competed in the Winter Olympics. Johnny graduated from the University of North Texas with a degree in Pre-Law and left as the school's All-Time Leading Receiver. He also walked-on to the track team and helped anchor the 4×100 relay to a NCAA Regional mark. Johnny was inducted into the University of North Texas Hall of Fame as a first ballot candidate and selected as one of two receivers to the UNT All-Century Team. Johnny grew up in McKinney, Texas where he was an All-State wide receiver at McKinney High School. Despite leading the State of Texas in receptions and finishing second in receiving touchdowns at the Class 5A level his senior season, Johnny was a non-recruited student-athlete. He did not receive an athletic scholarship until two days before signing day. Read Johnny Quinn's recruiting journey and why he created The Athlete Watch to passionately help high school student-athletes fulfil their college dreams!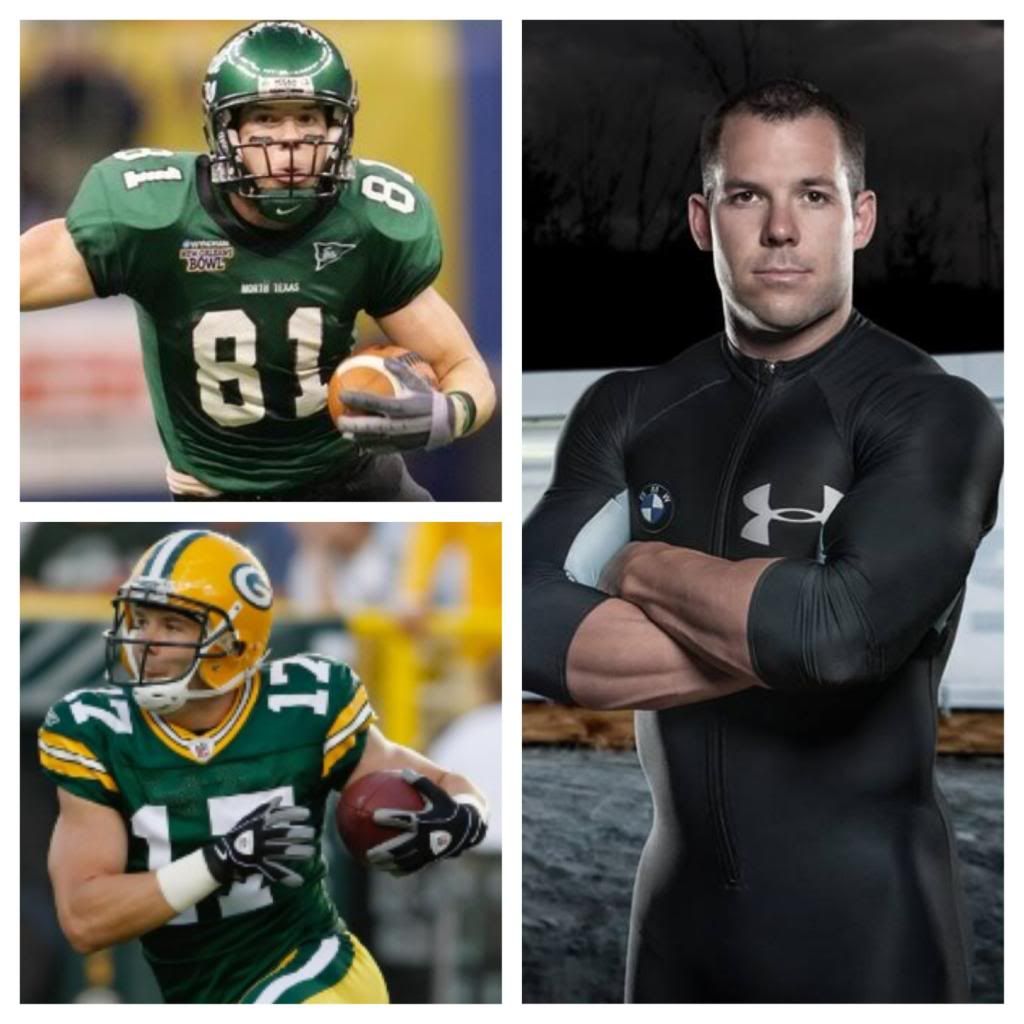 Johnny Quinn at North Texas, Green Bay and Olympic Bobsled Team.
I hear all the time in sports that someone was blessed with God-given ability. So I got to thinking: What has God blessed me with? I will tell you. He blessed me with strong hand-eye coordination and a remarkable work ethic.
People have called me undersized, slow, and even weak; along with many other things, but one word you will not hear from anyone is lazy. Lazy gets you beat; it is selfish and it always hurts the team. Every day I answer this question: do you want to be the best today, or are you going to be lazy? The beautiful thing is that it is up to me to decide and no one else. It does not matter if I am in the weight room, on the practice field or in a game. My teammates, coaching staff, family and friends always know I am going to give maximum effort, every time.
Drive and desire are incredibly valuable in a student-athlete, but there is a problem with these two assets: you can not measure them and you can not put them on paper for college coaches and scouts to see. When it was my turn for recruitment, my biggest and best assets could not be converted into a 40-yard dash, a bench press, a cone drill or height and weight. With experience, I learned I needed to do a better job of being PRO-ACTIVE, of taking action, and giving college coaches and scouts a great first impression, to demonstrate I wanted to be a part of their team.
From the time I could walk and hold a ball, I loved sports. If it was physical, I wanted to play it. My football career only began in the seventh grade because my mom did not want me to play until it was a school sport. Being afraid I would get hurt, she also hoped my football career would only go as far as middle school. But in the seventh and eighth grades I won the Outstanding Wide Receiver Award, and it gave me the momentum I needed to convince her to let me play through high school.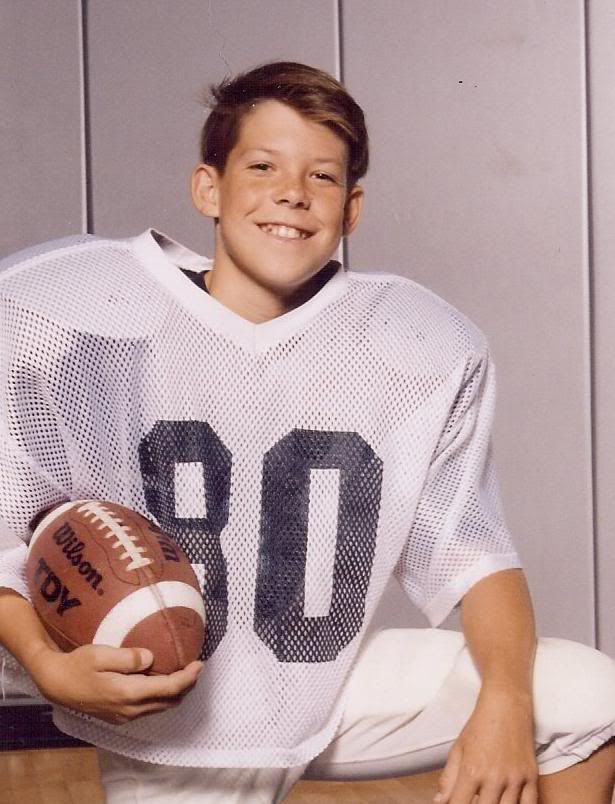 7th grade football
In my freshman year of high school I played football, basketball, baseball and ran track. It was by trying different sports that I learned football was my true passion. I told my parents I wanted to start focusing strictly on football so one day I could earn a scholarship and play in college. During my sophomore year of high school, I spent half the year on junior varsity and the other half on varsity. Unfortunately, I did not know at the time that a student's sophomore year, especially in football, is when college scouts tend to start taking a hard look at prospects. I also did not know my sophomore year was when I needed to be PRO-ACTIVE in order to get my name out there. After limited playing time on the varsity team as a sophomore, and no letters and no calls, I knew I was not on any scout's radar.
My junior year was better. Our team had the number one running back in the state, so we did not throw the ball much. I had 9 catches for 96 yards, averaging about one catch per game. Still I received no letters and no calls from college coaches. It was not until after my junior year that I caught a break. That summer I attended the Texas Tech University football camp and it turned out to be one of the best decisions my family made. It was there I had the opportunity to showcase my skills to the very people in charge of recruitment and stand out among hundreds of players. I performed well enough that I was selected to personally meet with the head coach at the time, Mike Leach. I was now on a college watch list, and on Texas Tech's radar.
By the time my senior year rolled around, I was excited Texas Tech was showing interest and would be sending scouts to watch me play during the upcoming season. Remember, Texas Tech found me because I found them first! Still, as my senior season started, my family and I could not understand how some football players already had scholarships and had committed to universities. Mom's favorite words of encouragement during the recruiting process, that turned out to be far from the truth, were, "If you are good enough, they will find you!"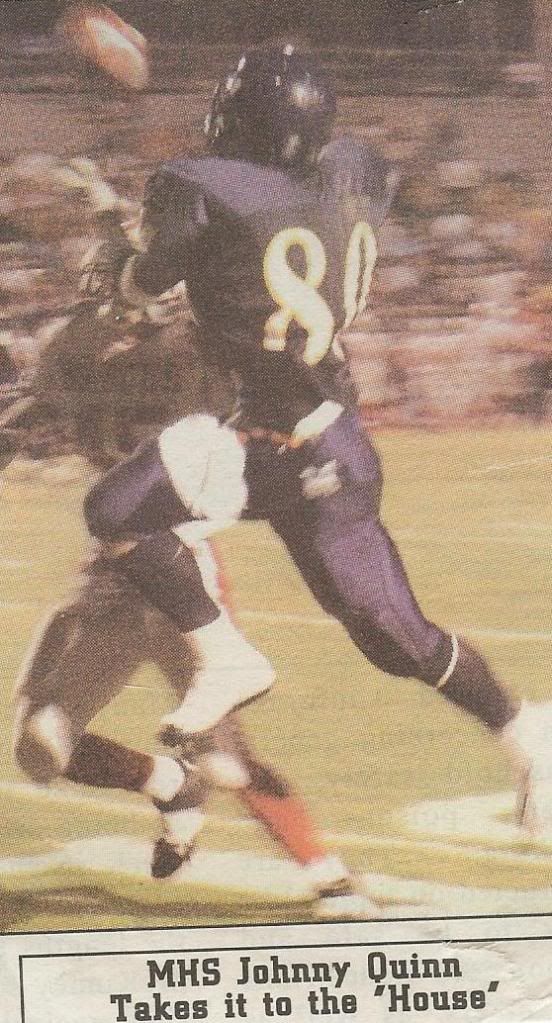 McKinney Lions Football
During my senior season a lot of footballs came my way. Every week The Dallas Morning News published a list of area receiving leaders and each week my name was at the top. Double-digit receptions in multiple games gave me a comfortable lead in the Dallas/Fort Worth area, but I had no idea I was leading the state of Texas.
I soon faced a match-up against a nationally ranked defensive back that played in my district. This top-ranked recruit had committed to the University of Oklahoma his junior year, and every college scouting service had him high on their recruiting boards. To make a long story short, I finished the night with four touchdowns including the game winner in overtime. My family thought if I won the battle against one of the top-ranked defensive backs in the nation, who had already committed to one of the top college football programs in the nation, surely scouts would be knocking at my door and filling my mailbox with letters to come to their universities. After all of that game's excitement, and continuing to increase my lead as the state leader in receptions, nothing changed for me in the recruiting process. The level of interest from small schools remained the same, and Texas Tech continued to keep tabs on me.
As a team we had a mediocre year, finishing 5-5 and missing the playoffs. Fortunately, with a good quarterback and offensive line, I was able to maintain the lead in receptions for the state and was a First Team selection to the Class 5A All-State Team, an honor given to the top two receivers in the state of Texas.
Top two wide receivers in Texas
The following January, I had another opportunity to showcase my skills when I was selected to the Coca-Cola High School All-Star game. This All-Star game had the potential to give me an extra boost before signing day, and garner more interest from colleges and universities, which was exactly what I needed. I had a solid game, scoring the game-tying touchdown with a minute left in the fourth quarter. All-Star games do not have overtime for the safety of the players, so the East tied the West 14-14.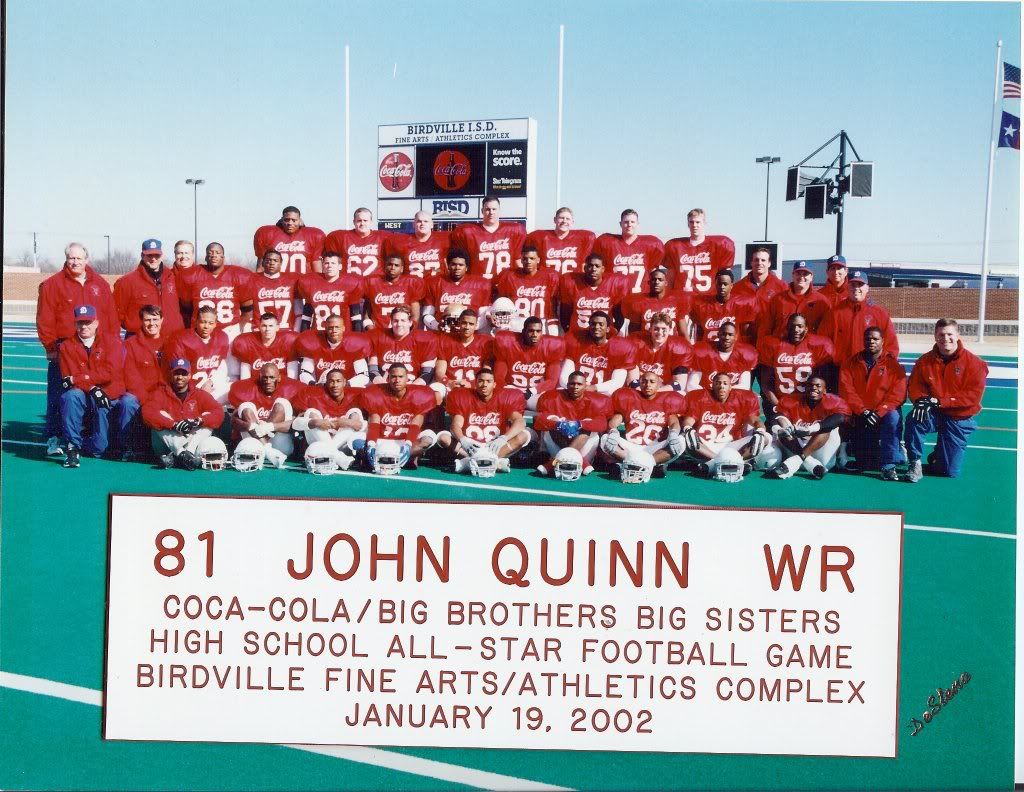 Coca-Cola All Star Game
By the time high school football was over for me I had three official visits set up to Texas Tech, the University of North Texas and Illinois State University, in that order. I only wanted to play for Texas Tech, but my family made sure I took all of my visits in case Texas Tech did not offer me a scholarship.
The Texas Tech visit was great, until the day I sat in former head coach Mike Leach's office. He told me they were going to wait on a few other players they were recruiting, offering me, instead of the scholarship I wanted, a preferred walk-on spot. While my parents thought the visit was encouraging, I did not think so. Texas Tech was where I wanted to go, and I had the desire, drive and stats for a scholarship.
My next visit was to the University of North Texas. North Texas knew I was at Texas Tech a week before, and they put me with a host player who turned down a walk-on offer from Texas Tech. Universities know exactly what they are doing. The visit went great, until the last day. Former head coach Darrel Dickey did not offer me a scholarship, instead he said he wanted to wait and see about other players they were recruiting at the time.
I was two visits down. To my dismay I still had zero scholarship offers. But, I had one visit left, this time to Illinois State, leaving me one week before signing day. How could it be possible for the state receptions leader to have no offers? I took my visit to Illinois State, enjoyed the visit and was offered my very first scholarship, which came with a 24-hour deadline.
Needless to say, this was a big deal at my house. I had one scholarship offer and one preferred walk-on offer on the table. North Texas was out of the picture. After a heated discussion with my family, we agreed I would walk-on to Texas Tech and turn down a full scholarship to Illinois State. I wanted to show Texas Tech I could play at the Division I level and earn the scholarship I deserved.
Before I turned down Illinois State's offer, North Texas came through with a scholarship the very next afternoon. Now I had two scholarships, and needed to re-think my decision about walking on to Texas Tech. After an easy discussion with my family, it made sense this time not to turn down a full scholarship. I gave Texas Tech one more chance to see if they would match North Texas' scholarship offer, but they did not. I became a Mean Green Eagle!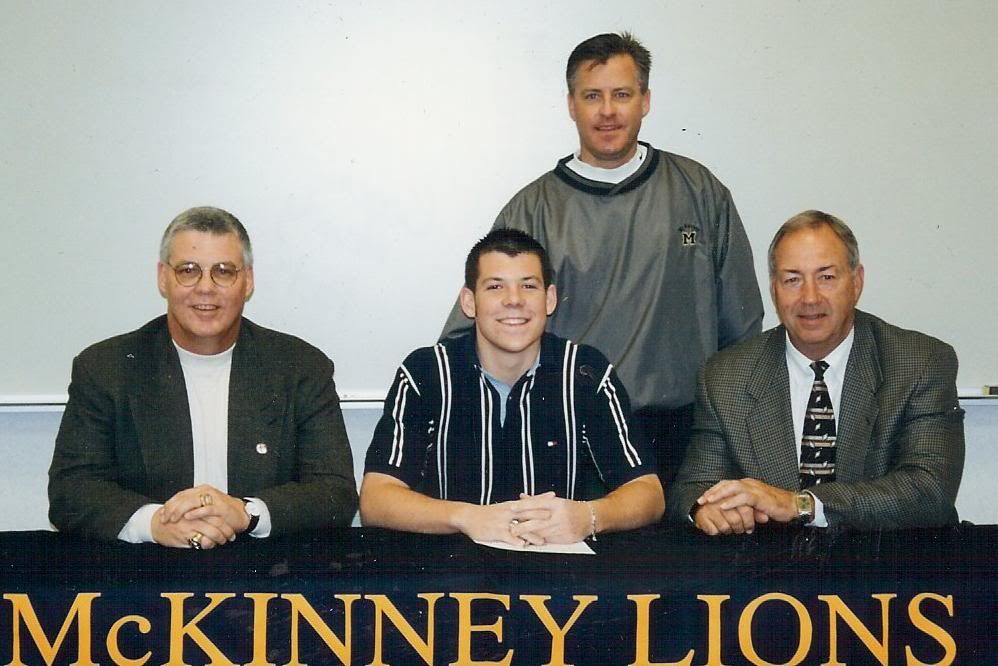 Signing my full scholarship to the University of North Texas!
---
---
College
Johnny Quinn had one Division-I football scholarship offer coming out of high school to the University of North Texas. At North Texas, Quinn was part of three football Sun Belt Conference championships and played in three bowl games from 2002-04. Quinn is the all-time leading receiver in North Texas history with 2,718 yards.  He was a three-time all-conference selection from 2004-06 and a first-team all-conference pick in 2006.  Quinn is second in school history with 3,835 all-purpose yards for his career.  Quinn is only the second player in school history to lead North Texas in receiving in four straight seasons.  He is second all-time with 187 career receptions and fourth all-time with 21 career-receiving touchdowns.  Quinn is the only player in school history with more than 500 yards receiving in four straight seasons.  He has six 100-yard receiving games in his career and two games of over 150 yards receiving.  He led North Texas in punt returns for three-straight seasons from 2004-06 and led the 2005 team in kickoff return yardage. Quinn was nominated to the pre-season Bilentnikoff Watch List in 2006 and finished third in the country at 47 consecutive games with a reception.  Quinn was a two-year team captain from 2005-06 and he was invited to play in the 2007 North-South Classic All-Star game in Houston, Texas.
Johnny on a catch and run in the New Orleans Bowl
Quinn also walked-on to the track and field team as a sprinter and competed in the 100-meter dash running a personal best of 10.62.  He also competed in the 200-meter dash running a personal best of 21.80.  Quinn anchored the 4x100 relay to the third fastest time in school history with a 39.92 and earned a trip to the NCAA Regional Track & Field Championship in Austin, Texas.
Johnny anchoring the 4x100 sprint relay
In 2011, Johnny Quinn was inducted into the North Texas Hall of Fame as a first ballot candidate. In 2013, Johnny was selected as 1 of 2 receivers for the UNT All-Century Team.
UNT Hall of Fame ring and plaque
100 years of North Texas Football, The All Century Team
Pro Football
In 2007, Quinn was eligible for the NFL Draft and despite being in the top 10 statistical leaders for career receptions, receiving yards, and receiving touchdowns, 34 wide receivers were drafted and he was not one of them. Immediately after the draft, Quinn signed his first NFL contract with the Buffalo Bills as a rookie free agent.
Johnny running routes during Buffalo Bills practice
After a brief stop in Buffalo, Quinn signed with the Green Bay Packers in 2008. After a strong off-season and being selected as a "Performer of the Week," Quinn played in four pre-season games making his first catch on Monday Night Football versus the Cincinnati Bengals. Quinn made it to the final cut, but was then released.
Johnny on a catch and run vs. the Cincinnati Bengals at Lambeau Field
In 2009, Quinn went north of the border to the Canadian Football League and was a member of the Saskatchewan Roughriders. The Roughriders won the Western Division and met the Montreal Alouettes in the 97th Grey Cup, only to lose on a last-second field goal 28-27. Quinn started in four of the eight games he played in and scored his first professional touchdown on a 29-yard reception versus the B.C. Lions!
Johnny's first touchdown in the CFL
Unfortunately, injuries are a part of the game and Johnny tore his ACL in the last game of the regular season. With the help of Peak Physical Therapy and the Michael Johnson Performance Center, Quinn completed rehab of his surgically repaired knee in 5.5 months. A week prior to training camp the Saskatchewan Roughriders released him.
USA Bobsled
During Johnny's transition out of professional football he sent film showcasing his speed and acceleration to a pilot at the Olympic Training Center in Lake Placid, New York. Johnny received a phone call two days before the 4-man team trials competition in October 2010 because a member on the team was overweight. Johnny flew in the night before the race and his first time on ice, ever pushing a bobsled, was at the team trials competition. The team Johnny was on took 3rd place and started a four year journey to the 2014 Olympic Games in Sochi, Russia.
Johnny is a 4x U.S. National Bobsled Team Member and has competed and traveled the world with Team USA – Austria, Canada, France, Germany, Italy, Russia, Switzerland and the United States. In 2013, Johnny was a part of the first USA men's podium sweep in the 2-man bobsled World Cup event in Lake Placid, New York.
USA men sweep the podium in Lake Placid, NY
Johnny was named to the U.S. Olympic team on January 19, 2014 after a World Cup #7 in Igls, Austria. On Feb. 8 Johnny walked in Opening Ceremonies as a member of the 230 athlete delegation the United States sent to compete on the world stage. On Feb 22 and 23, he competed in the 4-man competition with Nick Cunningham, Justin Olsen and Dallas Robinson. The USA-2 team took 12th place in the 2014 Olympic competition.
Getting ready at the starting block
Pushing the sled fast at the start
Going 80 mph in Sochi
Spending time in the leaders box!
What a journey it has been for Johnny Quinn. To go from a non-recruiting student-athlete to the Olympic Games is a story only God could write! Johnny and The Athlete Watch team are ready to help you achieve your dreams! Join us for the ride!
What's on your mind?
Let us know what's on your mind. Click below to contact us.